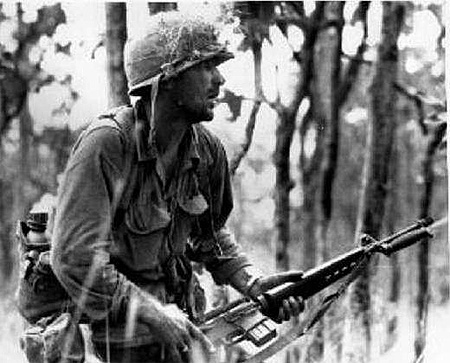 Cyril Richard Rescorla,known as Rick Rescorla, was born in Hayle, Cornwall. His childhood memories were of commando raids by British forces, OSS operations, and the French resistance. As a youth he read about these events, studied them, analyzed them, criticized them --like a Monday morning quarterback. He was virtually nurtured at the knee of war and special operations.
In his teens he joined the British army, became a paratrooper, then went into intelligence and led a unit fighting guerrillas and insurgents in Cyprus. Then he went to Africa -- Northern Rhodesia (now Zimbabwe) where he fought more guerrillas and insurgents. After that, he joined the London police force as a member of the Scotland Yard Flying Squad. In 1963, he came here to the United States and enlisted in the American Army as a private. In April 1965, he was commissioned as a Second Lieutenant of Infantry out of the Officer Candidate School at Fort Benning, Georgia. Sent to Vietnam, he was a hero of the 1965 Battle of Ian Drang described in the book and hit movie We Were Soldiers Once and Young. Rescorla's men nicknamed him Hard Core for his bravery in battle, and revered him for his good humor and compassion towards his men. He is also mentioned in the book Baptism by Larry Gwin who also fought at Ia Drang. The fourteenth chapter of the book is called Rescorla's Game and describe hon as the "Cornish Hawk".
Rescorla served one tour in Vietnam, earning a Silver Star, a Purple Heart and Bronze Stars for Valor and Meritorious Service. After the war, Captain Rescorla left active Army service, though he stayed in the National Guard until he retired as a Colonial. For his service and accomplishments, he was inducted into the Officer Candidate School Hall of Fame in April 2001.
In 1967 he became an American citizen. He had paid his dues. He went to college at the University of Oklahoma where he studied literature and writing. Then he went to law school and became a lawyer. He taught criminal justice at the University of South Carolina in Columbia awhile, but the academic life was too tame for him. He went into the banking/financial security business, and quickly advanced to the top ranks of his profession.
As Vice President for Security at Morgan Stanley Dean Witter, one of Wall Street's largest brokerages houses, it was Rick Rescorla's job to think like a terrorist. In 1990, he saw that the World Trade Center was a likely target for a terrorist attack because it was a symbol of American economic power. He did a security survey of the building and concluded, that driving a truck bomb into the basement near a key supporting column would bring down the entire complex. On 26 February 1993, that exact scenario almost played out. Islamic terrorists set off a homemade chemical bomb packed inside a rental truck that was parked in the basement, in an attempt to make the towers collapse.
Rick Rescorla knew that Islamic terrorists who failed the first time would try again. He thought the terrorists' next attempt would be to fly a plane, possibly filled with chemical or biological weapons, into the towers. He had advised Morgan Stanley executives that the company should move from the Twin Towers to a safer location. But the company's lease went until 2006. The next best thing, Rescorla thought, was to practice evacuation drills. He pressed the company to conduct regular drills even though some employees grumbled and joked about them. Every few months, all 2,700 employees in the SOuth Tower would be marched, with Rescorla at the bull horn, in a arduous trek down a long winding stairwell of one of the world's highest skyscrapers and out of the building, just for practice. Another 1,000 employees would be evacuated for the Morgan Stanley offices nearby.
On 11 September 2001, the evacuation was real. A fireball erupted in the nearby tower, and all of Morgan Stanley's employees were making their way down and out of the other tower. By the time the second hijacked airliner hit the South Tower at 9:07 a.m., most of the company's employees were out. But Rescorla's work was not finished.Thee employees were missing. Rescorla and two assistants went back to look or them. Rescorla was last seen on the tenth floor of the burning tower. He died when the building collapsed a short time later. But he had saved thousands of lives. Out of 3,700 employees, Morgan Stanley lost only six, including Richard Rescorla. He left behind a widow, Susan Rescorla, and his two adult children Trevor and Kim.


Walter "Joe" Marm wearing his Congressional Medal of Honor.

Source code & object code Copyright 1995: WWW.TroubleShooterServices.com
Subject to terms of license agreement.