5/7 Cav. Reunion on July 30 - August 6 in Colorado
General Hugh J. Gaffey
A former name retained. Hugh Joseph Gaffey, born 18 November 1895, in Harford, Conn., attended Officers Training School at Fort Niagara, N.Y., and was commissioned Second Lieutenant in the Field Artillery Reserve
15August 1917. Assigned to the 312th Field Artillery at Fort Meade, Md., he went to Europe in August 1918 and served in France and Germany before returning to the United States in August 1919. During the next two decades he served at various posts in the United States and served with the 15th and 18th Field Artillery and the 7th Cavalry Brigade. Assigned to the I Armored Corps in July 1940, he served with them until July 1942 when he was assigned to the 2d Armored Division. Appointed Brigadier General 5 August 1942, he was sent to the European Theater in November; and, in April 1944, he was designated Chief of Staff for General Patton's 3d Army fighting in France. He then assumed command of the 4th Armored Division in December. Major General Gaffey was killed in a B-25 crash at Goodman Field, Ky., June 1946.
Admiral W. D. Capps (AP-121) (q.v.), was reacquired by the Navy from the Army Transport Service as General Hugh J. Gaffey 1 March 1950 and assigned to MSTS. With a civilian crew on board, she operated on West Coast-Far East cruises and throughout the Korean conflict transported troops and equipment to the Pacific staging areas.
After the hostilities in Korea ceased, General Hugh J. Gaffey continued runs to Japan, Korea, Taiwan, Okinawa, and the Philippines. From 1954 to 1965 the transport made almost 100 cruises to these countries. In the summer 1965 she made her first cruise to Cam Ranh Bay, South Vietnam, during the intensified American buildup in Southeast Asia. Continuing her Pacific crossing, General Hugh J. Gaffey made seven more voyages throughout 1966. After carrying Korean troops to Vietnam in January, 1967 to join the fight against Communist aggression, she arrived San Francisco late in February for overhaul to prepare for future action.
The New Young Troopers 5/7 on their way back to Iraq.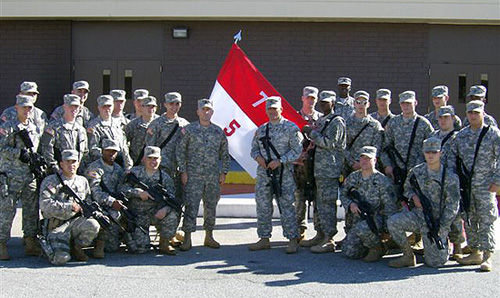 LTC CLIFFORD WHEELER Co of the 5/7 Cav

1ST SGT.BRADLEY FELTMAN B TROOP

B TROOP 5/7 CAV IRAQ

LTC G. Chuck Markos (Major at the time) in Baghdad, Iraq. He was
the CO of the 101st 4th MiTT training the Iraqi army. He was very proud of
them and would fight with them any where, any time. That's Capt. Josh
Brandon by his side.

Be Sure To
Visit Our Guest Book

Source code & object code Copyright 1995: WWW.TroubleShooterServices.com
Subject to terms of license agreement.